Unkono ugumo gudalelea ng'wana. (Sukuma)
Mkono mmoja haulei mtoto. (Swahili)
Une seule main, n'eleve pas l'enfant. French)
One hand does not raise a child. (English)
Sukuma (Tanzania) Proverb
Background, Meaning and Everyday Use
The Sukuma Ethnic group is the biggest one in Tanzania. It is estimated to reach 10 million people; a population which represents 16% of the inhabitants of Tanzania. These people are mainly found in the regions of: Mwanza, Shinyanga, Geita, Simiyu, and Katavi.
They normally move within the country searching for good land that can allow agricultural activities as well as providing their cattle, goats, sheep and the others with good pastures. Therefore, a big number of them who migrate from one area to another one are farmers and pastoralists.
They maintain their customs and traditions through working together as a team in their works. They teach each other by using Proverbs, Riddles, Songs and Wise Sayings. One hand does not raise a child is one of the proverbs that they use to encourage their members to work hard together in teaching their societal members to participate in their economic, social, political and cultural activities.
This Sukuma proverb promotes participation of every societal member in raising a child in their societies. It invites parents to cooperate with Small Christian Communities in upbringing well their children.
It can be traced back to a woman who had a child in a certain village. She was a mother who was reprimanding her child by not allowing others to help her in raising him. Consequently such child misbehaved by being a drug addict, smoking marijuana, beating people as well as attempting to kill his mother.
The child's mother screamed and people came with the king of that area aiming at knowing the cause of such child's behavior. The mother explained how she raised her child alone by not letting others to help her in upbringing him. Then the people reminded her of the great need to work together in raising a child by telling her that, one hand does not raise a child.
The child's mother asked people and Small Christian Communities to work together to nicely raise her child. When they did that, the child gave up his bad behavior and started doing well with his peers.
He was baptized and collaborated agreeably with the Small Christian Communities in raising other children of various families in their Small Christian Communities. That is why he started telling people that, one hand does not raise a child.
This mother is compared to the parents who do not help each other properly enough to raise their children until they have problems and then they start working together. These parents do not participate together in raising their children by not collaborating well until their children bring them problems due to misbehaving and then they unite to raise them together in their lives. This partnership for raising their children builds a good habit of living a life of true love that enables them to help one another in their lives.
Biblical Parallels
Matthew 19:14: but Jesus said, "Let the children come to me, and do not prevent them; for the kingdom of heaven belongs to such as these."
Luke 2:26-27: "And it was revealed unto him by the Holy Spirit that he should not see death before he had seen the Lord's Christ. And he came by the Spirit into the temple: and when the parents brought in the child Jesus, to do for him after the custom of the law."
Luke 2:48: "And when they saw him, they were amazed: and his mother said unto him, son, why hast thou thus dealt with us? Behold thy father and I have sought thee sorrowing."
Contemporary Use And Religious Application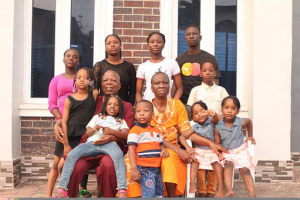 This proverb enables all Catholic Church members to share their experiences for growing together in faith, hope and love. It reminded them of their responsibility to do away with whatever that hinders them from participating together enough to raise their children in Godly values.
It brings about good upbringing of the child by inviting Christians to love one another enough to participate in the Synodal Process. This is due to the fact that, it makes people feel free to give their ideas which are needed for the spiritual growth of the baptized Catholic member.
This proverb also encourages family members to participate in their Small Christian Communities for sharing their ideas enough to promote respect of one another in the Church. Such respect promotes peace and hope to children who are present in their Small Christians Communities.
This proverb put all Christians together by strengthening their unity in Jesus which is essential for raising their children in the Catholic faith.  Such unity brings about growth through working and praying together by giving a chance to all members to participate in raising their children. This is due to the fact that Jesus is there where two or three are gathered in His name (Matthew 18:20).
This Sukuma proverb teaches parents on how to cooperate together in raising their children in their Small Christian Communities so that they can grow up with good values enough to help each other in their lives.
It invites all Christians to participate together with Pope Francis, Cardinals, Bishops, Priests and Deacons enough to raise the children in the Catholic faith by putting into practice the synodal call of walking together as missionaries of the good news of Jesus Christ to the people.
No.1042 — Unkono ugumo gudalelea ng'wana.
in the Sukuma Legacy Project https://sukumalegacy.org
It includes Swahili and English translations.
Texts and photo by:
Lucia Deus Shelembi
luciashelembi@gmail.com
Nairobi. Kenya
+254 703201330 (WhatsApp)