Numbu ya wiza idapunzagwa. (Sukuma)

Kiazi kizuri hakimenywi. (Swahili)

Une bonne patate douce n'est jamais épluchée. (French)

A nice potato is never peeled. (English)
Sukuma (Tanzania) Proverb
Background, Meaning and Everyday Use
The 2021- 2024 Synodal Process has a great role in reminding all Catholic Church members of their responsibilities to research and use the good values that unite them enough to walk together towards God. They can do so through inculturation where they can get those values from ethnic groups who live in the African nations.
Tanzania is an African country that has 128 languages. The Sukuma Ethnic Group with its language Sukuma has the most speakers in the nation.  It has a population of "8,130,000 increasing" according to the 2016 Ethnologue: Languages of the World that makes 16 percent of the nation's total population. There are few speakers in the cities. 88 % are in the traditional country areas.
The people in this Sukuma Ethnic Group usually impart teachings to one another in their daily lives by using proverbs, sayings and so on. They inspire their members enough to unite together by using a variety of proverbs which encourage them to walk together in fulfilling their economic, social and cultural activities. One of those proverbs says a nice potato is never peeled.
The above proverb has its origin from the farmers of sweet potatoes at Sanjo Village in Shinyanga Region. They cultivated a big farm that enabled them to harvest many sweet potatoes. Traditionally women went to dig the potatoes for eating at the dinner table and carried them back home on their heads.
They started peeling some of those potatoes while preparing them for cooking by using knives after discovering that they were infested by insects. Those women peeled all the infested potatoes enough to cook them. But they had no need to peel the good ones as they directly cooked them after digging them from the farm.
They knew that the good potato is not peeled because it has not been invaded by insects. In fact, the insect-infested potato is first peeled to remove the insect-infested part; then it can be cooked and eaten. On the other hand, a good potato is dug and cooked directly because it is free from insects. That is why those women said that a nice potato is never peeled.
This proverb teaches people how to have good morals so that they can live well with each other enough to achieve great success in their lives. It encourages them to carry on doing good things to their societal members by maintaining their values which unite them together in fulfilling their daily activities.
Biblical Parallels
Galatians 5: 16-17: "I say, then: live by the Spirit and you will certainly not gratify the desire of the flesh. For the flesh has desires against the Spirit, and the Spirit against the flesh; these are opposed to each other, so that you may not do what you want."
Galatians 3:3: "Are you so stupid? After beginning with the Spirit, are you now ending with the flesh?"
Romans 8: 5-6: "For those who live according to the flesh are concerned with the things of the flesh, but those who live according to the spirit with the things of the spirit. The concern of the flesh is death, but the concern of the spirit is life and peace."
Hebrews 12:14: "Strive for peace with everyone, and for that holiness without which no one will see the Lord."
Romans 12:18: "If possible, on your part, live at peace with all."
 Romans 14:19: "Let us then pursue what leads to peace and to building up one another."
Contemporary Use And Religious Application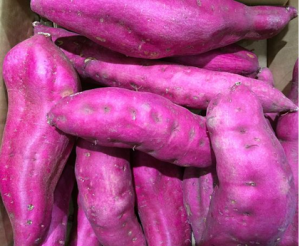 This proverb plays a great role in enabling all members of the church to recognize the presence of the Holy Spirit in each one of them that makes them good people who can participate in all the Synodal Processes. Such recognition will unite all of them enough to walk together as they become aware of the goodness that every one of them has in the church of Christ.
It is parallel to the Small Christian Community members who maintain their unity by answering the Synodal Process key questions enough to come up with good values which can enable them to carry on walking together in fulfilling their daily activities. Those values can help them in putting into practice their missionary work of spreading the good news of Jesus to their societal members that they received during baptism.
The Small Christian Community members are like the good potatoes that were directly cooked after being dug because they too have the Holy Spirit that lives in them who enables them to love one another on the way towards the heavenly Kingdom. That is why they unite and encourage one another after gathering in their weekly meetings enough to walk together towards God by saying that a nice potato is never peeled.
NOTE: This proverb is the 30th Sukuma proverb, saying or riddle in our "African Proverb of the Month" Series since we started in 1998. See also
No. 775. NUMBU YA WIZA IDAPUNZAGWA.
in the Sukuma Legacy Project https://sukumalegacy.org
It includes Swahili and English translations.
See also the Sukuma proverbs in the:
Nanetya Foundation: Ethnic Stories in Mother Tongues Website
nanetya-foundation.org
Text and photos:
Rev. Zakaria Kashinje, OSA
Dar es Salaam, Tanzania
Cellphones:
+255-756-887787 Vodacom
+255-717-3337787 Tigo
+255-786-337787 Airtel
Email: zkashinje@gmail.com
zkashinje@yahoo.co.uk
Assisted by:
Rev. Joseph G. Healey, MM
Maryknoll Society
P.O. Box 43058
00100 Nairobi, Kenya
973-216-4997 (AT&T, USA)
Email: JoeHealey@jghealey.com
WhatsApp: 1+ 973-216-4997
Skype: joseph-healey