B'uli hiwe b'ugimbiligwa. (Sukuma)
Ulioko kwenye jiwe huimbiwa (msagaji hujifariji kwa kuimba). (Swahili)
La broyeuse de sorgho chante pour se consoler. (French)
The grinder of sorghum sings to comfort herself. (English)
Sukuma( Tanzania,) Proverb


Background, Meaning and Everyday Use
The "Synodal Process" calls for all Catholic Church members to play their roles in researching the African values that can unite them enough to walk together towards God. They can do so by getting those values from Ethnic Groups who live in the African nations.
Tanzania being one of those African countries has 128 languages that are rich in these values. The Sukuma Ethnic Group with its language Sukuma has the most speakers in the nation.  It has a population of "8,130,000 increasing" according to the 2016 Ethnologue: Languages of the World that makes 16 percent of the nation's total population. There are few speakers in the cities. 88 % are in the traditional country areas.
The Sukuma people frequently convey knowledge to one another in their daily lives by using a number of proverbs. They do so for uniting their members enough to encourage them for maintaining an inner self of walking together in fulfilling their economic, social and cultural activities. One of those proverbs says  the grinder of sorghum sings to comfort herself.
This proverb came from a woman who was singing while grinding sorghum on a grinding stone. This woman lived at Mwamagembe Village within Kishapu District in Shinyanga Region.  She had to grind a tin which had 20 kilograms of maize.
She learned a good number of songs from various traditional dances that are found in her Sukuma Ethnic Group. She creatively simplified her tough work by singing while grinding from morning to evening time to the point of finishing her work happily.
This woman was able to console herself through singing until she finished grinding this tin of sorghum. That is why people came up with the proverb that says the grinder of sorghum sings to comfort herself to describe such a situation. It means that grinding sorghum on the stone is not an easy task; it needs courage and perseverance.
This proverb teaches people on how to be creative enough to use various ways of fulfilling their daily activities. It gives needed courage and perseverance to societal members for achieving great successes in their lives.
Biblical Parallels
Luke 9:62: "[To him] Jesus said, "No one who sets a hand to the plow and looks to what was left behind is fit for the kingdom of God."
John 16:21: "When a woman is in labor she is in anguish because her hour has arrived. But when she has given birth to a child, she no longer remembers the pain because of her joy that a child has been born into the world."
Romans 12:11: "Do not grow slack in zeal, be fervent in spirit, serve the Lord."
Galatians 6:9: "Let us not grow tired of doing good for in due time we shall reap our harvest if we do not give up."
Revelation 2:10: "Do not be afraid of anything that you are going to suffer. Indeed, the devil will throw some of you into prison, that you may be tested, and you will face an ordeal for ten days. Remain faithful until death, and I will give you the crown of life."
Contemporary Use And Religious Application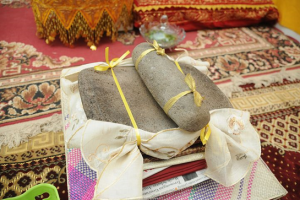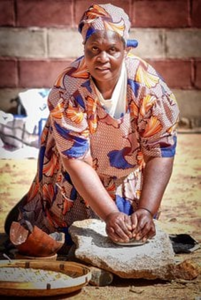 This proverb is used to encourage distressed Christians to work to the point of being courageous enough to perform their missionary task of spreading the good news to their people that they received through baptism because they will benefit in the future life. They should imitate Jesus who suffered for saving them.
It can also be used in the context of sickness where the sick person needs to endure the suffering by being strong in putting into practice the Catholic faith in our daily lives without despairing. Refer to Kugundua Mbegu za Injili that means Discovering the Seeds of the Gospel, page 12. This book was written by the Bujora Cultural Research Committee and edited by two researchers the late Father Donald Sybertz, MM and Father Joseph Healey MM and published by Benedictine Publications, Ndanda – Peramiho, 1993.
This proverb teaches people how to work patiently by inspiring them enough to be courageous in their lives. Patience and courage will make them responsible in whatever they decide to do in life by following Jesus Christ without giving up. They should zealously maintain their hope of finding the fruit of their sweat in the future life after completing their missionary work on earth. They should also be like the grinding woman who happily pushes herself with no worries because of the fruit of her labor.
Father Emmanuel Makolo from Shinyanga Diocese in Tanzania liked this proverb so much that he used it on his Priestly Ordination Card (Souvenir) in 1987. He compared the service/pastoral work of a priest to that of a woman grinding sorghum. The explanation can be found in the book Kugundua Mbegu za Injili, page 13.
This proverb calls for all Catholic Church members to have courage and perseverance in participating in the whole "Synodal Process" enough to discover the required values for applying them in walking together towards God through Small Christian Communities. They should encourage one another by saying that the grinder of sorghum sings to comfort herself.
No. 701. –    B'ULI HIWE B'UGIMBILIGA
in the Sukuma Legacy Project http://sukumalegacy.org
It includes Swahili and English translations.
Justina Yunge Deus
Treasurer — Ndoleleji Kamati ya Utafiti (Ndoleleji Research Committee)
P. O. Box 71
Kishapu
Shinyanga, Tanzania
Photos by:
Rev. Zakaria Kashinje, OSA
Dar es Salaam, Tanzania
Cellphones:
+255-756-887787 Vodacom
+255-717-3337787 Tigo
+255-786-337787 Airtel
Email:
zkashinje@gmail.com
zkashinje@yahoo.co.uk