Nzila ili munomo. (Sukuma)
Njia ipo mdomoni. (Swahili)
Le chemin est dans la bouche. (French)
The way is in the mouth. (English)
Sukuma (Tanzania) Proverb
Background, Explanation and Everyday Use
The Sukuma Ethnic Group is the largest ethnic group ("8,130,000 increasing" according to the 2016 Ethnologue: Languages of the World) in Tanzania in East Africa and live mainly in rural areas in the northwestern part of the country on or near the southern shores of Lake Victoria – mainly in the Mwanza and Shinyanga Regions. Sukuma means "north" and refers to "people of the north." They are relatives of the Nyamwezi Ethnic Group and share a similar language of Bantu origin.
Traditionally part of an oral culture, the Sukuma people in Tanzania use many types of oral literature such as proverbs, sayings, riddles, stories, myths and songs to communicate values and priorities. Normally we think of research on Sukuma proverbs as going to the Sukuma elders for their wisdom and knowledge. This present write-up is a new way of doing research — listening to what Sukuma young people are saying.
The Covid 19 pandemic long vacation has given us a chance to meet with various young people in our streets in Tanzania. This was possible after closing all educational institutions in our country and responding to the order of our government as a measure to control the spread of the pandemic. In our Shinyanga Region in Western Tanzania, most of the youth engage in various activities in order to earn their living. It is from these daily activities that we came across this Sukuma proverb, nzila ili munomo (the way is in the mouth).
This popular proverb among the young people in Sukumaland is much or frequently used by the "boda boda boys" . This proverb means that no one can be lost in any place even if it is a new place to him or her. The only thing to do is to use one's mouth in asking directions. Then he or she will be shown the place of the inquiry. So when you are at the bus stop and you want to go somewhere, it is only the matter of telling the boda boda and you will be taken to the particular place you want to go. The teaching of the proverb is on searching or going to a new place that  one does not know. If you don't know the way, you just have to ask(use your mouth).
One day I visited my brother. It was the first time to reach to his home. After arriving at the bus stop, he told me pick up a boda boda.  I did as he said. The boda boda driver told me not to worry much because the way is in the mouth, thus confirming the use of this proverb. We arrived safely by asking people that we met on the way.
Biblical Parallels
Matthew 7:7: "Everyone who asks receives; everyone who searches finds; everyone who knocks will have the door opened."
John 14:13-14:  "Whatever you ask for in my name I will do, so that the Father may be glorified in the Son. If you ask me for anything in my name, I will do it."
John 14:6: "Jesus said: 'I am the way, the truth and the life.'"
Contemporary Use and Religious Application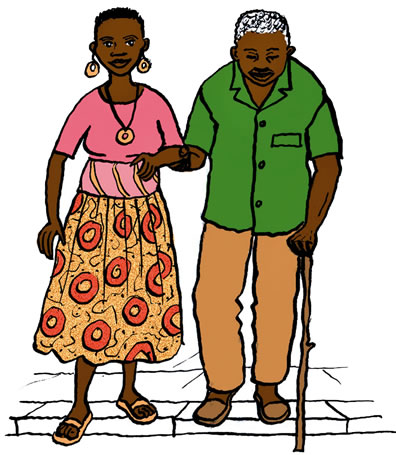 We are really lucky in our generation; the world has advanced in science and technology. Due to this advancement in technology we are able to communicate as if we are living in the same home.
Through this interaction, the quest of asking is inevitable. Thus, as we live in a community, there are various things probably that we are not aware of; maybe we should not keep quiet and let them go without knowing these things. This Sukuma proverb helps to awaken in us the spirit of asking in order to understand. Thus if we keep silent we will end up losing the way.
In the Christian perspective, this proverb is very useful in our missionary activities. In order to understand the culture of the people whom we are shepherding or serving, as true missionaries we try to go and meet with our people in their everyday way of living through asking the value of each custom and norm. From this we can understand to the local reality and try to integrate Christianity with these African cultural practices and norms and thus reach true African inculturation.
Dedication:
This Sukuma proverb on searching for a new place or anything one does not know is dedicated to the late Father Donald Sybertz, MM — Ng'wana Helena — a lover and researcher of Sukuma oral literature in Tanzania. He worked tirelessly as a young missionary in understanding Sukuma culture and traditions up to his last breath on 19 April, 2020.  In his life he managed to integrate the Scripture and the African wisdom proverbs, sayings, stories and parables through inculturation. As a researcher and writer, he managed to collect more than 4,000 Sukuma proverbs! We really appreciate Sybertz' notable contributions toward African Narrative Theology. See the Pauline Publications Africa and Orbis Book Towards an African Narrative Theology. May his soul rest in eternal peace. RIP.
We are three young Sukuma seminarians, moved by our Sukuma culture. We believe that this great man has joined our great ancestors and he is there as our mediator. We will always remember his great contribution in this field of Sukuma cultural research. We shall work tirelessly to make him alive through continuing all that he desired to be done by the indigenous Catholic priests and seminarians.
NOTE: See more information on the:
Sukuma Legacy Project Website (Tanzania Sukuma Legacy Christian Research Organization)
https://sukumalegacy.org
Nanetya Foundation: Ethnic Stories in Mother Tongues Website
http://nanetya-foundation.org/sukuma-proverbs
Contributed by:
Sem. Yohana Maswizilo (Maryknoll Seminarian from Shinyanga Diocese, Tanzania)
Maryknoll Formation House
P. O Box 43058
00100 Nairobi, Kenya
+255-759-606570
ymaswizilo@gmail.com
Sem. Paschal Mahalagu (Diocesan Seminarian from Shinyanga Diocese, Tanzania)
Segerea Senior Seminary
P.O Box 3522
Dar es Salaam, Tanzania
+255-755-180893,
+255-719-664463
paschalmahalagu@gmail.com
Sem. Emmanuel Sebastian (Diocesan Seminarian from Shinyanga Diocese, Tanzania)
Catholic University of Eastern Africa (CUEA)
Nairobi, Kenya
emmanuelsebastian74@yahoo.com
Drawings supplied by:
Elias Bushiri Elie
Nairobi, Kenya
Cellphone: +254 741 497 556
Emails: ebushiri@gmail.com
e.bushiri@yahoo.com
These are the group of young people in Tanzania who use motorcycles as a means of transport. They transport people or luggage from one place to another, especially to the areas where cars cannot reach due to various factors such as lack of roads or rough roads, etc. The words
boda boda
are a corruption of the words "border border" since they started on the border of Kenya and Uganda. From Wikipedia: "
Boda bodas
 are bicycles and 
motorcycle taxis
 commonly found in 
East Africa
. While motorcycle taxis like
boda bodas
are present throughout Africa and beyond, the term 
boda boda
 is specific to East Africa. In 
Kenya
, they are more frequently called
piki pikis.
 Their ubiquitous presence in East African cities is the result of a number of factors including an increasing demand for public transit, the ability to purchase motorcycles on credit, and an influx of cheap imports from Indian manufacturers like 
Bajaj
. In the countries where they are present,
boda bodas
can provide transportation options to riders and job opportunities to drivers while at the same time resulting in an increase in road hazards and collisions and unnecessary injuries and deaths."