Imenyagwo irari iria yakwua.  (Gikuyu)
Watu wanatambua kwamba ng'ombe iliwapatia maziwa mengi baada ya kufa.(Swahili)
Les gens réalisent simplement qu'une vache ne nous a donné beaucoup de lait qu'après sa mort. (French)
People realize that a cow gave us much milk only after it dies. (English)
Gikuyu (Kenya) Proverb
Background, Meaning, And Everyday Use
The Kikuyu (Agikuyu) is the largest Bantu ethnic group in Kenya inhabiting Kenya's central highlands around Mt. Kenya and its ranges.  They speak the Gikuyu language and are lineage-oriented considering themselves as being from common ancestors Gikuyu and Mumbi. Kikuyu wisdom and philosophy are passed on to the youth through proverbs and wise sayings.
The proverbs come into consciousness when a person has a real experience of what the proverb summarizes.
A person is praised after he or she dies. This Gikuyu proverb is often used at funerals when relatives and friends realize how much the deceased person contributed to their lives. They even wonder how they are going to continue in the future without the person.
Biblical Parallels
Mark 6:4: "A prophet is not without honor, except in his or her hometown and among his relatives and in his or her own household."
Contemporary Use And Religious Application
This Gikuyu proverb is how I feel about Sister Janice McLaughlin, MM, after I saw a video about her. She is an American Maryknoll Sister who served in Eastern and Southern Africa for over 40 years and who died at Maryknoll, New York, USA on Sunday, 7 March, 2021. May she rest in peace. I did not realize her greatness and the great contribution she made to our continent until after I read her life history. In addition her Memoirs have recently been published:
Janice McLaughlin, The Color of the Skin Doesn't Matter: A Missioner's Tale of Faith and
Politics, Harare: Weaver Press, 2021 and Maryknoll: Orbis Books, 2021.
Not valuing a person, not appreciating a person until he or she dies can be seen in this true African story, He Went Like a Bar of Soap:
Zacharias, an elderly African catechist, was laid to rest after a long life of serving his church and the people of Kenya. Afterwards, I was walking back with another catechist when she remarked, "We'll miss him. He went kisabuni (Swahili for "like a bar of soap"). Confused, I asked, "Like a bar of what?" She repeated," kisabuni. You know, in the house the bar of soap sits next to the basin, available morning, noon and night to all — children, adults, the elderly, family and guests alike. It never discriminates or complains of being used and reused. It is taken for granted as it slowly disappears, until someone exclaims, 'Gosh, the soap is gone!' Zacharias was that kind of man. I'm sure the God he served so well will grant him eternal rest."
How can we apply this Gikuyu proverb to our daily lives. Who would I like to appreciate more in my life? It is good to take time and listen to our relatives and friends' stories while they are still with us.
Sister Ephigenia Gachiri, IBVM
LUMKO East Africa Coordinator
Loreto Sisters Abundant Life Centre
Isinya, Kenya
0721-532858
Email: wagachiriwene@yahoo.com
Photos by:
Rev. Zakaria Kashinje, OSA
Dar es Salaam, Tanzania
Cellphones:
+255-756-887787 Vodacom
+255-717-3337787 Tigo
+255-786-337787 Airtel
Email:
zkashinje@gmail.com
zkashinje@yahoo.co.uk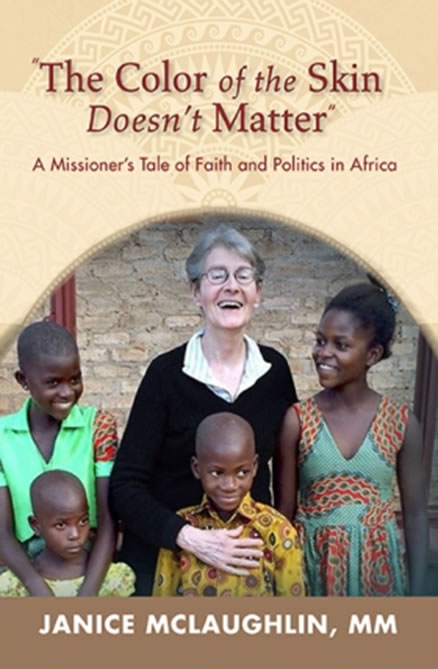 McLaughlin, Janice, The Color of the Skin Doesn't Matter: A Missioner's Tale of Faith and Politics, Harare: Weaver Press, 2021 and Maryknoll: Orbis Books, 2021.
$26. To order go to: "The Color of the Skin Doesnt Matter" (orbisbooks.com)