Ssebuwufu bwa ngo, tebuyitibwaamu mbwa. (Ganda)

M'mbwa hawezi kamwe kutembea katika nyayo za chui. (Swahili)


Le chien ne peut jamais pietiner sur les pas du leopard. (French)


The paw prints (tracks) of a leopard are not be trodden in by a dog. (English)
Ganda (Uganda) Proverb
Background, Explanation, Meaning and Everyday Use
In Luganda "buwufu" are paw prints, footsteps, or tracks. The prefix "sse-" is often added to Ganda words to signify words or names (usually male). Among the Baganda people the names Ssebuwufu (m), Buwufu (m), and Nnabuwufu (f) gradually became associated with those of the lion (Mpologoma) clan. Very rarely employed are the male clan names mbwa (dog) and the prefixed Ssembwa.
The proverb depicts the presence and importance of power, hierarchy and respect in social, political and economic relationships. The proverb is also associated with bravery and strength, with the fierce fighters and with war. "Ssebuwufu" was a war and royal name. One named so was traditionally heavily respected and feared. The leopard (ngo) is admired and feared for its solitary bravery, territoriality, camouflage stealth and killer strength. The dog whose group hunts and is thieving would be at risk of being mauled to death if it dared to tread in the leopard's trail. The dog is much less feared and admired. NOTE: This is Proverb No. 4901 in the book Luganda Proverbs by Ferdinand Walser. Elias (Eriya) Mbwa, a convert to Anglican Protestantism, was sentenced to death by burning fire likely on May 26, 1886. He became the most renowned Ugandan with the dog name. Sentenced for disobeying the king, including not disavowing his recent conversion to Christianity, Mbwa was castrated at Mengo or (Munyonyo) near Kampala upon the commuting of the burning by fire sentence by the rebel, flippant, and eccentric Buganda king (Kabaka) Mwanga. It is estimated that Elias Mbwa was castrated on 27 May. He bled from his wounds, apparently slipped into a coma and died approximately two days later. Mbwa had been a close associate of Mwanga, starting from when he was a page at the royal palace when Mwanga was still a prince. John F. Faupel in African Holocaust: The Story of the Uganda Martyrs states that Mbwa had been dismissed for refusing to steal goats for the prince Mwanga. But after a reconciliatory peace, Mbwa was even granted a chieftainship when Mwanga became the king.
Twenty-two Catholic and 23 Anglican Protestant converts are officially recorded as the martyrs that variously met their fate by dismemberment, spearing, beheading, ravaging by dogs, or castration or combinations of one and another. The exact numbers of Christian and Muslim converts that were killed is unknown. But the Zanzibari Muslim influence in Buganda was much less pronounced than that of the French Catholics and British Anglicans. Pope Benedict XV in 1920 declared the 22 Catholic martyrs "Blessed" (beatified). They were canonized to sainthood by Pope Paul VI in 1964. In 1969 Pope Paul's visit and pilgrimage to Uganda marked the first time a reigning pope visited sub-Saharan Africa. The religious wars and the killing of the converts will forever footprint and haunt Uganda where 3 June is a national holiday to honor the martyrs.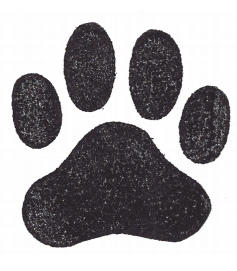 Biblical Parallels
Godly messages relay warnings to persistent transgressors: "…they forgot me. So I will be to them…like a leopard I will lurk beside the way. I will fall upon them like a bear robbed of her cubs, I will tear open their breast, and I will devour them like…a wild beast… (Hosea 13: 6-8). "A leopard is watching against their cities, everyone who goes out of them shall be torn in pieces because their transgressions are many, their apostasies are great" (Jeremiah 5:6). The dog is despised, as is implied in Goliath challenging the diminutive David: "Am I a dog that you come to me with sticks?" (1 Samuel: 17: 43).

Contemporary Use and Religious Application
The wilderness involves pecking orders that are part and parcel of maintaining equilibrium in the ecosystem. However humans are created in the image of God and endowed with the superior capacity to reason, to coexist peacefully, and to be sympathetic and accommodating of the weak and those of lower rank. Hierarchy and power can be created by democracy, royalty, family order, age order, educational or job rank, intellect, and numerous other settings. High ranking is meant to be justifiably achieved, and those in power are charged with being just to those of lower rank, entrusted to nurture and respect them as fellow human beings. Humans are not supposed to behave like the crushing nature of the big cats in the wilderness. But at the same time maintaining order in society is reciprocal. Therefore it necessitates those of the lower ranks to revere their higher-ups and not needlessly overstep their boundaries. Hierarchy in society is meant to maintain civilized equilibrium. Bloody massacres, such as those of Catholics, Anglicans and Muslims during the missionary activities of the 1880's in Buganda, took place partly because kings believed that they were divinely empowered over life and death. Legally sanctioned hierarchy and authority is important and valuable as long as boundaries are respected. Ironically, the power of and reverence for the Buganda king was equated to that accorded to a leopard. Kabaka Mwanga ordered that Eriya Mbwa suffer a slow and painful death. On the other hand, God Almighty is merciful and forgiving, but the unrepentant and persistently sinning are subject to His wrath.

Mr. Jonathan Musere
8513 Venice Blvd 201
Los Angeles, CA 90034 USA
Email: JMusere@aol.com
JMusere@yahoo.com

Photographs selected by:

Cephas Yao Agbemenu
Department of Art and Design
Kenyatta University
P.O. Box 43844
Nairobi, Kenya
Cellphone: 254-723-307992
Email: cyagbemenu@yahoo.com