Vuli mundu ali nishihanwa shyeshye. (Tiriki)
Chaque personne a son talent. (French)
Kila mtu ana kipawa chake. (Swahili)
Every person has his or her own gift. (English)
Tiriki (Kenya) Proverb
Background, Meaning and Everyday Use
This month's proverb comes from the little known ethnic group of the Tiriki people from the Western region of Kenya. The Tiriki people form one of the 18 sub-tribes of the Luyia (also spelledLuhya). They live in proximity with other Luyia subtribes and these are the Maragoli, Banyore and the Idakho people. They also border the Luo people and the Nandi people. They speak Lutirichi and occupy the area North of Hamisi District and its surroundings. One of the distinct features of the Tiriki is the preservation and practice of their culture particularly the circumcision rite. As a rite of passage, the Tiriki circumcise only men and it is a ceremony carried out only every five years.
For the entire period of their existence in this area, the Tiriki people have co-existed peacefully with their neighbors, whether they are Luyia or not. The Tiriki people respect the diversity of each and every human being. Living in a small geographical area, but densely populated, the Tiriki people welcomed expatriate missionaries from various religions particularly among the Christian denominations. The missionaries were cordially welcomed. They were freely given land on which they set up churches and schools. Due to each missionary group setting up more than one school, the Tiriki area became populated with many schools hence the locals could not supply a sufficient number of teachers. This has led to the importation of teachers from other parts of the country. By respecting the diversity in other people, the Tirikis have co-existed very well with all those who have come to work among them.
The meaning of this Tiriki Proverb is that individuals have different talents and are encouraged to work together.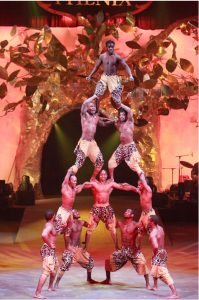 Biblical Parallel
           I Corinthians 12:28: "And God has appointed in the church first apostles, second prophets, third teachers, then miracles, then gifts of healing, helping, administrating, and various kinds of tongues."
Contemporary Use and Religion Application
Every person has his or her own talents. We should celebrate this variety. Diversity is a rich value in our African societies and cultures. We should appreciate it in our Christian Churches, in our governments and in other organizations. One way of celebrating this diversity is to use our different talents and gifts together and for the common good. A concrete example is responding to the present coronavirus crisis in Africa and around the world.
Also the lesson is that every person has his or her own destiny.
Agava Stanislaus Litsalia
Chief Librarian
Tangaza University College
P.O Box 15055-00509
Karen — Nairobi, Kenya
Cellphone:
Office: +254 20 8067667 | 0722 204724 | 0733685059
Personal: +254722935932
agavastanislaus1759@gmail.com
sagava@tangaza.ac.ke
Photographs provided by:
Elias Bushiri Elie
Nairobi Kenya
Cellphone: +254-735-973-276
+254 792 556 909
Email: ebushiri@gmail.com
e.bushiri@yahoo.com