Moea uecha heavy hayen. (Dinka)
Rafiki ni yule amaye mnaendanisha naye njia pamoja. (Swahili)
Un ami est quelqu ún  avec qui vous partagez le chemin ensemble. (French)
A friend is someone you share the path with. (English)
Dinka (South Sudan) Proverb
Background, Meaning and Everyday Use
The Dinka people (Dinka: Jiɛ̈ɛ̈ŋ) are a Nilotic ethnic group native to South Sudan with a sizable diaspora population abroad. The Dinka mostly live along the Nile, from Jonglei to Renk, in the region of Bahr el Ghaal, Upper Nile (two out of three provinces that were formerly located in southern Sudan) and the Abyei Area of the Ngok Dinka in South Sudan. They number around 4.5 million people according to the 2008 Sudan census, constituting about 18% of the population of the entire country and are the largest ethnic tribe in South Sudan. Dinka, or as they refer to themselves, Muonyjang (singular) and jieng (plural), make up one of the branches of the River Lake Nilotes (mainly sedentary agri-pastoral peoples of the Nile Valley  and African Great Lakes region who speak Nilotic languages, including the Nuer and Luo).
In 1983, due to Sudan's Second Civil war, many young, educated Dinka men were forced to flee from the cities where they were working back to rural Dinka villages. Some of these men were Christians who had been converted by the Anglican Church Missionary Society and other Christian denominations. They took their faith with them when they fled. Among these men were ordained clergymen who began preaching in the villages. Songs and singing were used to teach the mostly illiterate Dinka about the faith and Biblical lessons. A large number of Dinka people have converted to Christianity and are learning how to adapt or reject ancient religious practices and rituals to match Christian teachings. The Christian conversion of the Dinka people did not only happen only in the rural villages but also among Dinka refugees as they fled the war-torn country. The Lost Boys of Sudan were converted in great numbers in the refugee camps of Ethiopia.
Proverbs, wise sayings, folklore and songs convey important messages and are often used by the Dinka. This Dinka Proverb highlights personal relationships, friendships and community building.
Biblical Parallels
Proverbs 17:17: "A friend loves at all times, and a brother or sister is born in a time of adversity."
Proverbs 18:24: "One who has unreliable friends soon comes to ruin, but there is a friend who sticks closer than a brother."
Proverbs 27:9: "Oil and perfume make the heart glad, and the sweetness of a friend comes from earnest counsel."
John 15:13-15: "Greater love has no one than this that he lay down his life for his friends. You are my friends if you do what I command. I no longer call you servants, because a servant does not know his master's business. Instead, I have called you friends, for everything that I learned from my Father I have made known to you."
Contemporary Use And Religious Application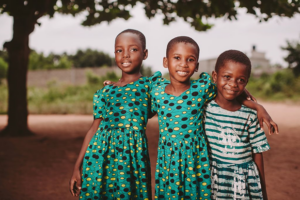 Friends can help you celebrate good times and provide support during bad times. Friends prevent isolation and loneliness and give you a chance for needed companionship too. Friends can also increase your sense of belonging and purpose. Who is a good friend? A good friend is someone whom you can rely on when you need it. They treat you with respect and being around them makes you feel good. They have your best interest at heart. You feel comfortable being yourself with them and you can trust them. Bad friends are often manipulative, untrustworthy and dishonest.
What does Jesus teaches Christians about friendship? The Lord Jesus Christ gave us the definition of a true friend: Jesus is the pure example of a true friend for He laid down His life for His "friends." What is more, anyone may become His friend by trusting in Him as his personal savior, being born again and receiving new life in Him. "Beloved, you do faithfully whatever you do for the friends, even though they are strangers to you." Jesus calls us all to welcome strangers and treat them as friends. "We know love by this, that he laid down his life for us and we ought to lay down our lives for one another."
Finally, the real definition of a true friend comes from the Apostle Paul: "For scarcely for a righteous man will one die; yet perhaps for a good man someone would even dare to die. But God demonstrates His own love toward us, in that while we were still sinners, Christ died for us" (Romans 5:7-8)."
In October 2023 the Catholic Church will have a Synod of Bishops in Rome on the theme "For a Synodal Church: Communion, Participation and Mission."  "Synod" mean walking together/journeying together. This Dinka Proverb encourages walking together/journeying together and sharing the path with each other. During this two year 2021 to 2023 Preparation Phase all Catholics (the People of God) and other friends are asked to focus on deeper listening and to use silence to hear the voice of the Holy Spirit in our lives. For more information go to the Synod Website at: Synod 2021 – 2023 and Synod Resources at: Resources (synod.va).
Texts and photos by:
Eli@s Bushiri Élie
Nairobi, Kenya
+254 7414 97556 (WhatsApp)
+254 7359 73276
ebushiri@gmail.com (Skype)
e.bushiri@yahoo.com
Eli@s B. Élie (Facebook)