Befit'ineti mehedi kefelegu bichawoni yiramedu ruk'I mehedi kefelegachihu abirachihu hidu. (Agaw)
Ikiwa unataka kutembea haraka, tembea peke yako. Ikiwa unataka kutembea mbali, tembea pamoja. (Swahili)
Si tu veux marcher vite, va seul. Si tu veux aller loin, marches ensemble. (French)
If you want to walk fast, walk alone. If you want to walk far, walk together. (English)
Agaw (Eritrea, Ethiopia and Burkina Faso) Proverb
Background, Meaning and Everyday Use
The Agaw or Agew (Ge'ez አገው Agäw, modern Agew) are a Cushitic language family and pan-ethnic identity native to the northern highlands of Ethiopia and neighboring Eritrea. They speak the Agaw language that belongs to the Cushitic branch of the Afro-asiatic language family, and are therefore linguistically closest related to peoples speaking other Cushitic languages. The Agaw or Central Cushitic languages are Afro-Asiatic languages spoken by several groups in Ethiopia and, in one case, Eritrea. They form the main substratum influence on Amharic and other Ethiopian Semitic languages.
They currently exist in a number of scattered enclaves, which include the Bilen in and around Keren; the Qemant people (including the now-relocated Beta Israel), who live around Gondar in the North Gondar Zone of the Amhara Region, west of the Tekezé River and north of Lake Tana; a number of Agaw live south of Lake Tana, around Dangila in the Agew Awi Zone of the Amhara Region; and another group live around Soqota in the former province of Wollo, now part of the Amhara Region, along its border with the Tigray Region. The Cushitic speaking Agaw people ruled during the Zagwe dynasty of Ethiopia from about 900 to 1270. The name of the dynasty itself comes from the Ge'ez phrase Ze-Agaw (meaning "of the Agaw"), and refers to the Agaw people.
This proverb is also found in one of the languages of Burkina Faso.
Proverbs are pieces of advice concerning a recommended direction of action — propositions loaded with hidden feelings, wishes and intentions of the speaker and tools to cover individual opinions in public interactive situations. Proverbs may give us persuasiveness by appealing to an authority. In Africa proverbs help us make interpretations of our everyday existence through dialogue and individuals' collective wisdom providing insight into how people live and behave. This particular proverb is used by Agaw people in Eritrea and Ethiopia and the people in Burkina Faso to embrace and motivate togetherness. Research shows that it is one of the most popular and used African proverbs in the United States.
It is important to understand that going far and reaching the destination is not something that could be caught up overnight. Of course, you need a lot of dedication and patience to reach the goal. When you are working in a team, you need to have quite a lot of people working together and each of the people working in the team has got their own opinions, and they would be sincerely counted. It is only when you give efforts together that you are able to make it big. You need to realize that you might face a lot of situations along your journey, but a team that aspires together will eventually be able to crack it big.
Proverbs, wise sayings, folklore and songs convey important messages and are often used by the Dinka. This Dinka Proverb highlights personal relationships, friendships and community building.
Biblical Parallels
Isaiah 1:18: "Come now, and let us reason together, says the Lord."
Isaiah 60:4: "Lift up your eyes round about and see; they all gather together, they come to you. Your sons will come from afar, and your daughters will be carried in the arms."
Acts 5:16: "Also the people from the cities in the vicinity of Jerusalem were coming together, bringing people who were sick or afflicted with unclean spirits, and they were all being healed."
1 Corinthians 11:17-18: "But in giving this instruction, I do not praise you, because you come together not for the better but for the worse. For in the first place, when you come together as a church, I hear that divisions exist among you; and in part I believe it." Can two walk together except they be agreed?
Contemporary Use And Religious Application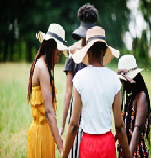 Skinner says, "if you want to go far and fast, engage employees: invest in culture development dialogue because their feedback loops create the capacity to adapt, evolve, align, and thrive." If we want to go far, first of all, we must bridge the gap between the leadership perspective and the experience of employees. It is human nature.
Unless they meet together, and appoint time and place, when and where they shall set out, what road they will take, and whither they will go; without such consultation and agreement, it cannot be thought they should walk together; and not amicably, unless united in friendship, and are of the same affection to each other, and of the same sentiments one with another; or it is much if they do not fall out by the way. The design of these words is to show, that without friendship there is no fellowship, and without concord no communion; as this is the case between humans and humans, so between God and humans; and that Israel could not expect that God should walk with them, and show himself friendly to them, and continue his favors with them, when they walked contrary to him; when they were so disagreeable to him in their sentiments of religion, in their worship, and the rites of it, and in the whole of their conduct and behavior. And to a spiritual walk with God, and communion with him, agreement is requisite.
God and humans were originally chief friends, but sin set them at variance; a reconciliation became necessary to their walking together again; which was set on foot, not by humans, who had no inclination to it, nor knew how to go about it if they had, and much less able to effect it; but by the Lord, the offended party: it began in his thoughts, which were thoughts of peace; it was set on foot by humans in the council of peace, and concluded in the covenant of peace; and his Son was sent to bring it about; and through his obedience, sufferings, and death, through his sacrifice and satisfaction, the agreement is made on the part of God, his justice is satisfied; but still it is necessary humans should be agreed too; this is brought out by the Spirit of God, who shows the sinner the enmity of their minds, the sin and danger of it, slays this enmity, and puts in new principles of light, life, and love; when the soul is reconciled to God's way of salvation, and loves the Lord, and delights in them and both being thus agreed, the one by the satisfaction of Christ, and the other by the Spirit of Christ.
And so it must be between humans and humans, that walk in a religious way; regenerate and unregenerate persons cannot walk together (2 Corinthians 6:15), there being no concord, nor can all sorts of professors; they must agree in the way Christ, and in the fundamental principles of religion; and in worship, and the manner of it; and in all the ordinances of the Gospel, and the manner of administering them. As Christian, you are required to walk comfortably together as the saint walks with God, not only as in his sight and presence, but by faith, and in his fear, in the ways and ordinances of the Lord; and particularly is frequent in prayer and meditation, in which much of their walk with God lies: and God walks with them; he grants his gracious presence; manifests his love and favor to them; talks with them by the way; discloses the secrets of his heart; and indulges them with nearness and communion with them; but all is founded on mutual agreement.
This African proverb —  If you want to walk fast, walk alone. If you want to walk far, walk together —  is very helpful in developing synodality or the Synodal Process in the Catholic Church today. We are called to live a synodal way of life.
Texts and photos by:
Eli@s Bushiri Élie
Nairobi, Kenya
+254 7414 97556 (WhatsApp)
+254 7359 73276
ebushiri@gmail.com (Skype)
e.bushiri@yahoo.com
Eli@s B. Élie (Facebook)